Welcome to Chinmaya Vibhooti
The sun and the moon and the stars and all else in nature add beauty, life and energy to this world just by being there. In the same way, a realized soul inspires people by his mere presence. Pujya Gurudev (Swami Chinmayananda) emanated the essence of his radiant Self to one and all. His very presence inspired people to work in a spirit of dedication and devotion, purifying their minds to blossom forth as their natural Self.
– Swami Tejomayananda
On December 31, 1951, a young monk, Swami Chinmayananda, gave his very first talk to an audience of eighteen in a small Ganesha Temple, in an alleyway in Pune city. It was at this moment that the seed of Chinmaya Vibhooti – the glory of 'Chinmaya' was sown. Sixty years later, on January 26, 2012, with the consecration of the Pranav Ganesh Mandir at Chinmaya Vibhooti, this astonishing journey which began with Lord Ganesh, returned a full circle back to Him.
Chinmaya Vibhooti is the celebration of the life of this remarkable monk, the founder of Chinmaya Mission, whose extraordinary dream took him on a journey that transformed and inspired lives, societies and cultures all around the world. Situated between Mumbai and Pune, in India's Kolwan Village, Chinmaya Vibhooti is an expression of gratitude concretised in the form of a centre that spans 65 acres of serene, pictorial landscape surrounded by the Sahyadri Mountains. The dream project of Swami Tejomayananda, current worldwide head of Chinmaya Mission, this monument is a collective offering to Swami Chinmayananda by his disciples, devotees and beneficiaries for all his work, selfless service, dedication and love.
We are all beneficiaries of his work, and gratitude is the noblest virtue.
– Swami Tejomayananda
Inner Peace for World Peace
Absorb the teachings of Vedanta, until they become the very essence of your spiritual existence. Live every word conscientiously. You change! And the world around you will change.
– Swami Chinmayananda
The vision of Chinmaya Vibhooti is to promote the inner transformation of spiritual seekers through Vedantic knowledge, spiritual practices and social services, thereby promoting a more harmonious and holistic world. This three-fold objective has been aptly summed up by Swami Tejomayananda: 'In order to motivate people by showing them the Vision, and to inspire them to work for it in their daily lives, they must get Vision, Inspiration and Practice in Chinmaya Vibhooti, which is why it is our VIP centre!'
'Vibhooti' means 'glory'. Chinmaya Vibhooti is a light to show, keep and spread the glory of Swami Chinmayananda's Vedantic teachings and social service projects alive and radiant throughout the world. 'If no one knows what Chinmaya Mission stands for, then it is only natural that grass-root activities like Bala Vihar, CHYK, Study Groups and so on will lose their focus, or right direction,' succinctly points out Swami Tejomayananda. Hence, the objectives of Chinmaya Vibhooti are to:
Show the Vision of Swami Chinmayananda so that it is properly understood.
Provide continuous Inspiration to remain clear and focused on the Vision. One way that this objective is fulfilled is via the many spiritual camps which take place at the Vision Centre. Since inspiration involves feelings, it is only when there is love that people feel enthusiasm and motivation to do something.
Impart training to ensure maximum efficiency.
We want people to come here, to derive inspiration, get vision, get training, and then go back and spread this work by doing their best, by lighting up the places to which they go.
– Swami Tejomayananda
Chinmaya Vibhooti – the tree of learning gives each traveller the jnana and inspiration to learn, develop and give back to society the knowledge learnt.
– Swami Brahmananda, Regional Head, Karnataka, India
---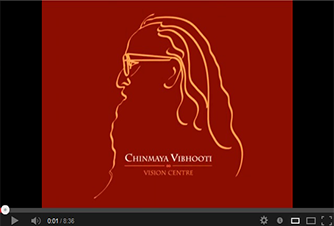 Like Us
Contact Us
Chinmaya Vibhooti
Post Kolwan,
Taluka Mulshi,
Pune, Maharashtra 412108
+91-9689891959
Chinmaya Vibhooti Swagat Team:
+91-9689891959 (9 AM to 6 PM daily)
Reach Us